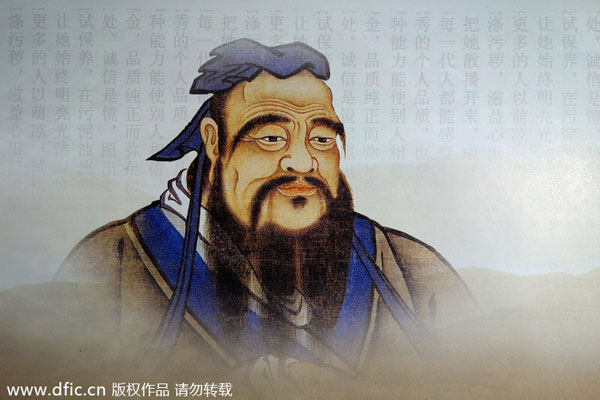 A portrait of Confucius (551-479 BC).
From ancient to modern times, building or buying a house has been a big issue for most families. People hold different views on housing, and there is no right or wrong. Confucius, the founder of Confucianism, had his own special view on housing. Let's see if it can still be useful to us today.
1. Confucius' income was sufficient to buy a house
Confucius' income came from two parts, one part was from a salary, and the other tuition from his students. Confucius held different jobs as a warehouse keeper, an accountant, a cashier and an official managing a pasture who always did an excellent job in every position.
When he was 56 years old, Confucius was the head of the supreme judicial court in the Lu State, with a revenue of 90,000 kilograms of millet, which equals to an annual income of millions of yuan today. Besides, there were also some benefits like barbecue meat when the monarch made a sacrifice.
Confucius was a pioneer in opening a private school. He had 3,000 disciples. He once said that bringing a piece of preserved meat would allow someone to become his student. This tuition was not small, as meat was a luxury in ancient times.
Confucius always lost his public employment so tuition became his main source of income. Among Confucius' students, some were very poor like Yan Hui and some were quite rich like Zi Gong, who was willing to pay for almost all the daily expenses for Confucius.
Throughout Confucius' whole life, especially after he rose to fame, he was never troubled by money and had enough financial power to buy a house.
2. Confucius' demands on his living environment
Yan Hui was Confucius' favorite disciple, and he came from the mean streets, or what we would call a slum today. Despite his humble background, Confucius valued Yan Hui and gave him high praise.
Once Confucius said he wanted to live in a remote, rural area, and some said, "The living conditions there are too poor, how can you live?" Confucius replied, "If one is a gentleman who lives there, what do conditions have to do with anything? "
Confucius held the view that whether a person is a gentleman or not, has nothing to do with whether his living environment is luxurious or simple.
Confucius didn't care about his neighborhood, but was more concerned about the environment on a larger scale. He advised against emigrating to warring countries, and if chaos occurred in a country, to get away from the country as soon as possible.
3. Confucius on quality of housing and materials
Confucius said, "Pursuing wealth is a good thing, if the way of making money is proper, I can even be a carriage driver. Even if one can't be rich, one can still follow his hobbies".
When Confucius was working as an official, he lived in a big mansion which had a stable. Once his stable was on fire, he first asked if anyone was hurt, and didn't ask how the horses were.
Confucius' view on building materials can be seen from his critical words to Zai Yu, who said that rotten wood can't be used to carve and dung and dirt can't be used to construct a wall.
Confucius often quit his official position and moved out of the luxurious house the monarch offered him. He held the view that people who get used to living in good houses easily become proud and only people living in ordinary houses can stay down to earth and honest.
4. How can we apply Confucius' thinking on housing today?
In general, Confucius' views on housing can be summarized as:
1. It doesn't matter whether you have property or not, what matters more is if your aspiration can be realized. Real estate can be sacrificed for the sake of an ideal.
2. It doesn't matter whether the house is good or not, but the neighbors' moral conduct matters.
3. It doesn't matter whether the house and its materials and decor is of good quality or not. It's whether the people living inside behave in accordance with etiquette that really matters.
Confucius' view on housing still has much influence on individual virtue cultivation today, which instruct us to pay more attention to our morality instead of being too materialistic. However, the reality is that pursuing a better house or better living environment is still important for most people. Perhaps what we can take away from Confucius is that a better cultural environment is as important as a better living environment.