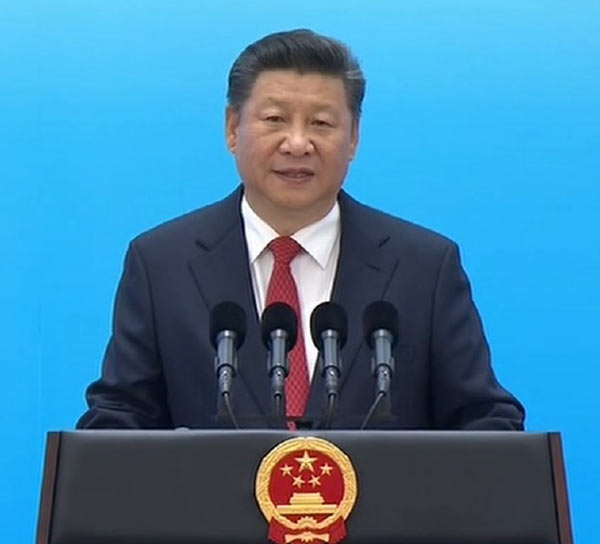 Chinese President Xi Jinping delivers a speech at the B20 summit in Hangzhou, Zhejiang province onSeptember 3, 2016.
Delivering a keynote speech on Saturday at the Business 20 (B20) summit inHangzhou, Chinese President Xi Jinping called China's reform and opening-up a great process.
Firstly, it is a process of exploration. There has been no precedent in human history for a countrywith a population of over 1.3 billion to realize modernization, he said.
Secondly, it is a process of action and hard work. China has been firmly taking economiccontruction as the center, he said.
Thirdly, it is a process of common prosperity. Development for the people, by the people and tothe benefit of the people - is the fundamental purpose of China's reform and opening-up and itsmodernization drive.
Lastly, it is a process during which China has been walking towards the world and the world hasbeen walking to China, said the president.
China confident, capable of keeping growth at medium-high speed
China stands at a new historical starting point today. This is a starting point for China to developa comprehensively deepening reform, to continuously push forward economic and socialdevelopment, to adjust to new normal by transforming development mode, to continuously beopen to and have an in-depth interaction with the world.
China has confidence and is capable of keeping growth at a medium to high speed and canbring more opportunity to the world when China develops itself.
China will unswervingly carry on a comprehensive reform and exploit a more promising future.China has developed a new normal economy. It is the only route for China's economy to evolveinto more advanced pattern, more rational structure and more optimized division of labor.
China must carry out reforms if it wants growth at a medium to high speed. Such growth is notpossible if China follows the beaten track. China will lose great opportunity if it is afraid to stepout. The direction of China's reform is clear and will not change. China will march forwardcourageously without hesitation.
China's reform have entered a difficult time. But China has to see the reform to the end withcourage and determination. China will continuously push forward supply-side structural reform,solve the main contradiction in the current economic development, improve the quality andefficiency of supply system by optimizing the allocation of production factors and adjustingindustrial structure, stimulate market's vitality and balanced development.
China will adhere to the system and mechanism of innovation, breaks the existing pattern ofinterests, promote the rule of law in an all-around way, allow market play a decisive role in theresources allocation and let government better play its role.
China stands at new starting point
China is standing at a new starting point for comprehensively deepening reform and injectingnew impetus in economic and social development, adapting to the new normal of economicdevelopment and transforming economic development mode, as well as deeply interacting withthe world.
China is confident and capable of keeping growth at medium-high speed and continuing toprovide the world with more development opportunities while realizing its own development.
Proceeding from this new starting point, China will unswervingly deepen reform in acomprehensive manner, implement innovation-driven development strategy, pursue greendevelopment, deliver more benefits to the people and further open up to the world.
G20 makes breakthroughs in building inclusive global economy
The G20 for the first time puts development issue at the center of global macro policy frameworkthis year.
It is also the first time that the G20 makes an action plan to implement the 2030 Agenda forSustainable Development and cooperates to support the industrialization of African countriesand least developed countries.
China will implement strategy of innovation-driven development
With a new starting point, China will take an unshakable stand to implement a strategy ofinnovation-driven development, releasing stronger momentum of growth. Seizing technologicalinnovation is a key step in achieving development.
As the economic growth and expansion modes that mainly rely on the inputs of resources, capitaland labor are not sustainable, China's development is facing arduous tasks of power conversion,transformation and restructuring.
To build an innovative country and a global scientific and technological power is an urgentrequirement and the only way for China's development.
China will implement a strategy of innovation-driven development to play the role of innovation asthe first power, endeavoring to achieve the transformation from growth in quantity to improvementin quality.
China will promote all-dimensional, multi-tiered and wide-ranging innovations in developmentideas, system mechanisms and business models, achieving a fundamental change inendogenous dynamics and vitality of promoting development.
China will strive to take the lead in making breakthroughs in major projects and directions,actively leading the implementation of international major scientific plans and projects.
China will deeply study and solve technology problems in the economic and industrialdevelopments, focusing on promoting mode transformation and structure adjustment, building amodern industrial system, fostering strategic emerging industries, and developing modernservice industry to promote the transformation of scientific and technological achievements, topromote the industry and the products to upgrade to the high end of industrial chain, and tocreate more leading developments that rely on innovation driven and have the first moveradvantages.
China vows more efforts in economic globalization and trade
China will continue to participate in the process of economic globalization and supportmultilateral trade. The country will relax the restrictions to foreign investments and increasefacilitation to improve fair competition and create good business circumstances with all ourefforts.
Meanwhile, China will speed up the signing of free trade agreements and investment treatieswith countries and accelerate the setting up of domestic free trade zones. We will continue topromote the internationalization of renminbi and improve the globalization of financial industry.
China's development benefits from the international community and China is willing to providemore goods to the international community. The Belt and Road Initiatives will share theopportunities of growth with the countries along the belt and road. The related projects haveobtained essential development. The Asian Infrastructure Investment Bank is playing a positiverole in regional infrastructure construction.
China committed to green development
Xi stressed the importance of environmental protection, saying: "To protect environment is toprotect productivity."
The government will unswervingly implement the strategy of sustainable development and becommitted to green, low carbon and circular development, while adhering to the basic nationalpolicy of resource conservation and environmental protection.
The move to promote green development also serves as China's active response to climatechanges and overcapacity.
China aims to reduce water use, energy consumption, and CO2 emissions per unit of domesticgross product (GDP) by 23 percent, 15 percent and 18 percent respectively in the next five years.
Meanwhile, it will cut crude steel output by another 100 million to 150 million tons in the next fiveyears, and close coal mines with around 500 million tons of capacity and cut another 500 milliontons of capacity through coal mine restructuring in the next three to five years.