The death toll from a powerful earthquake that toppled a 17-story apartment building in southern Taiwan has risen to seven, including a 10-day-old girl, as of 1:30 pm, according to United News Network.
Altogether, 318 people have been hospitalized, according to the island's medical and health authority.
The disaster caused the total collapse of eight buildings and the partial collapse of another five in worst-hit Tainan City.
By 1:20 pm, 246 people had been evacuated from the collapsed 17-story Wei Guan building in Yongkang District of Tainan, leaving 10 residents unaccounted for, according to the rescue command center for the building.

A total of 256 people were registered as living inside the high-rise in more than 90 households.

The building is a complex of towers whose floors pancaked down onto to each other when the 6.7 magnitude tremor struck at 03:57 am Beijing Time on Saturday, two days before the 2016 Chinese Lunar New Year that falls on Feb 8.
Rescuers mounted hydraulic ladders and a crane to scour the wreckage, plucking more than 120 survivors to safety, with dozens taken to hospital, Reuters reported, citing a fire brigade official.
Elsewhere in the city of 2 million people, several buildings tilted at alarming angles but a fire department official said rescue efforts were now focused entirely on the apartment block.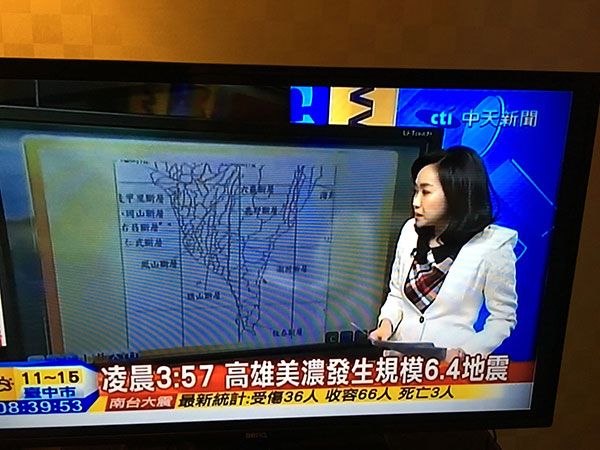 Screengrab of CtiTV reporting that three are killed, 36 injured in the earthquake.