China Joy, the nickname for China Digital Entertainment Expo and Conference, is being held in Shanghai from Thursday to Sunday. The annual event has been running for 13 years. It introduces the latest games and technological breakthroughs to players and the market, but over time has featured female models wearing revealing clothes to attract a wider audience.
Regulations introduced this year state, for example, that female models' chests should be fully covered by opaque material and models should not reveal large areas of the back. Neither can they reveal their navels or hips. If a model breaches the regulations, she and her company will face heavy fines.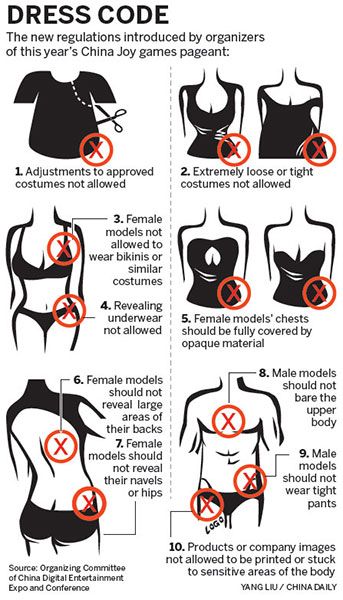 Due to the stricter dress code, many companies have reduced payments for showgirls, saying the models will not be that eye-catching this year.Shao Xiaomeng, 25, who has appeared at the past three China Joy events, says this year's will be the least profitable for her.