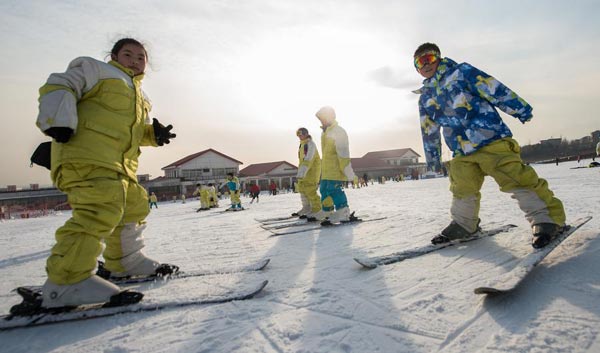 Students take a skiing lesson in Yanqing district, 90km northwest of downtown Beijing.
Beijing's bid for the 2022 Winter Olympics has offered China a precious chance to promote winter sports and encourage more people to participate in ice and snow events, said bid officials on Monday.
As part of its plan of expanding the appeal of winter sports to the 300 million people who live in north China, Beijing 2022 has implemented a string of promotional programs in schools, business districts and parks throughout the city. Already, skiing and ice hockey are attracting new fans, especially among the country's burgeoning middle class.
The International Olympic Committee (IOC) are due to choose the host city at its 128th Session here on Friday. Almaty, Kazakhstan, is the sole competitor against Beijing in the 2022 race after several European cities had pulled out. If successful, Beijing will become the first city to host both the Summer and Winter Olympic Games.
Beijing 2022 has also promised a frugal plan, with a total budget of slightly over 3 billion US dollars, split between games operation and infrastructure construction.
Five out of the six venues proposed in the Beijing city zone are already in place, including the iconic "Bird's Nest" stadium and "Water Cube" arena from the 2008 Summer Olympics, helping to keep down the costs.