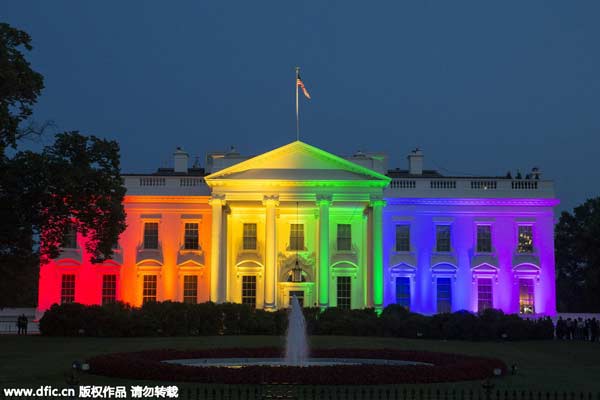 The North Portico of the White House is illuminated with rainbow colors in recognition of the Supreme Court decision regarding same-sex marriage, in Washington DC, USA, June 26, 2015.
The White House is lit up in rainbow colors in commemoration of the Supreme Court's ruling to legalize same-sex marriage.
Gay and lesbian couples in Washington and across the nation are celebrating Friday's ruling, which will put an end to same-sex marriage bans in the 14 states that still maintain them.
President Barack Obama said earlier Friday that the court ruling has "made our union a little more perfect."
The colors illuminated the north side of the White House as Obama returned Friday evening from Charleston, South Carolina, where he delivered the eulogy of the funeral of Clementa Pinckney, one of nine people murdered in the massacre at the Emanuel African Methodist Episcopal Church last week.
Gay marriage also is gaining acceptance in other Western countries. Last month in Ireland, voters backed same-sex marriage by a landslide in a referendum that marked a dramatic social shift in the traditionally Roman Catholic country.
Ireland followed several Western European countries including Britain, France and Spain in allowing gay marriage, which is also legal in South Africa, Brazil and Canada. But homosexuality remains taboo and often illegal in many parts of Africa and Asia.
The Supreme Court's ruling came in a consolidated case pulling together challenges filed by same-sex couples to gay marriage bans in Kentucky, Michigan, Ohio and Tennessee.
Same-sex marriage was legal in 36 states and Washington, D.C.. In a 37th, Alabama, a federal court struck down the gay-marriage ban but the state supreme court has stopped local officials from issuing marriage licenses to gay couples.
Opponents say same-sex marriage legality should be decided by states, not judges. Some opponents argue it is an affront to traditional marriage between a man and a woman and that the Bible condemns homosexuality.
President Barack Obama is the first sitting president to back gay marriage and his administration argued on the side of the same-sex marriage advocates. He has said he hoped the court issued a ruling preventing states from banning gay marriage.