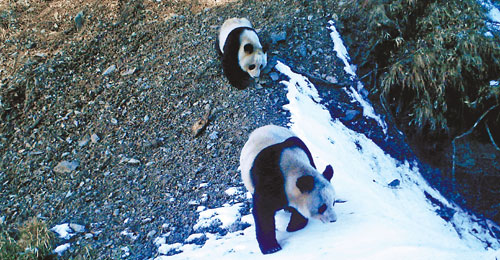 Hikers are disrupting the animals' movement along a vital passageway between nature reserves. Wildlife watchers and hikers are posing a risk to a vital passageway used by giant pandas in China's southwest to find partners during mating season, conservationists have warned.
Dubbed "the love corridor" by park rangers, the forests of Anzihe Nature Reserve in Sichuan province link two major habitats for the endangered animals.
However, an increasing number of tourists sneaking into the area, which is closed to the public, mean the wild pandas are being scared away from the route, putting further strain on efforts to get the animals to reproduce.
Anzihe, which is in the northwest corner of Chongzhou city, was set up in 1993 and is a major panda habitat. More importantly, it is a link between the world-famous Wolong National Nature Reserve, in Wenchuan county, and Dayi county's Heishuihe Nature Reserve, and is used as a passageway by male and female pandas in mating season.
Cameras to monitor the animals' movements are strategically placed among the trees, and it is not uncommon for them to capture touching scenes such as those released by the park in 2013, when footage showed a female panda and her frolicking cub navigating a steep slope.
Park rangers have noticed a reduction in the traces of wild panda activity on the reserve's border. Evidence suggests most of the animals have retreated to the core area to avoid invading sightseers.