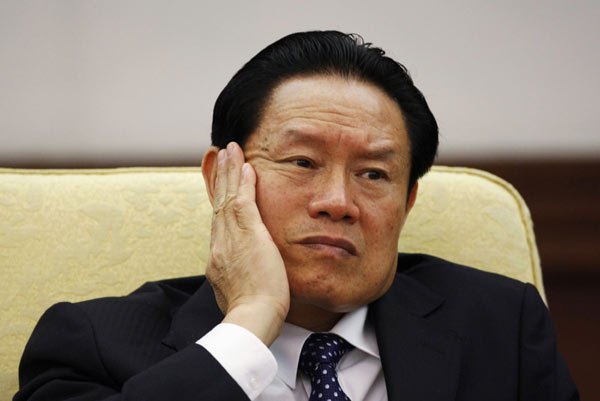 Then China's Public Security Minister Zhou Yongkang reacts as he attends the Hebei delegation discussion sessions at the 17th National Congress of the Communist Party of China at the Great Hall of the People, in Beijing in this October 16, 2007 file photo.
Fallen "tigers"-officials at senior levels accused of corruption-have established close relationships with groups of officials in local governments and among business directors and set up many factions, known by such names as "oil clique", "secretary clique" or "Shanxi clique", Xinhua News Agency reported on Sunday.
Before the new year, the political bureau of the CPC Central Committee held a high-ranking official meeting presided over by President Xi Jinping and issued a notice saying there is no room for cliques and factions within the Party.
"Party members should make Party rules their priority, and the Party is adopting 'zero tolerance' toward cliques and factions within it," the notice said. "In addition, those who still have a bad work style and extravagant deeds will be severely punished, and their superiors will also be held accountable."
The condemnation of cliques and factions could be considered the latest warning for other officials to avoid the misdeeds of Zhou Yongkang, the country's former security chief; Xu Caihou, former vice-chairman of the Central Military Commission; and Ling Jihua, former minister of the United Front Work Department of the CPC Central Committee, as well as other corrupt senior officials.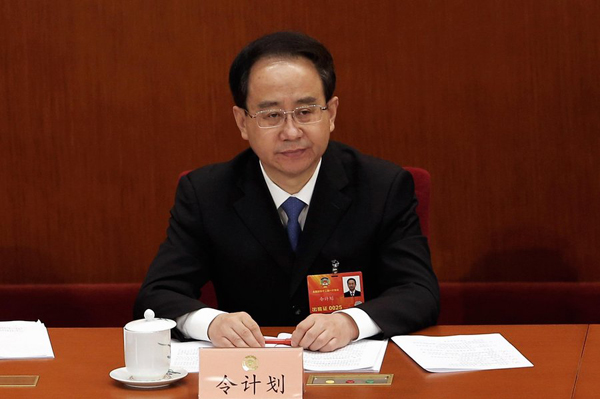 Then secretary of the Central Secretariat of the Communist Party of China Ling Jihua attends the plenary session of the Chinese People's Political Consultative Conference at the Great Hall of the People on March 8, 2013 in Beijing, China.
Zhou was reported to have formed several networks within the fields he was in charge of, including central and local governments, law enforcement organs and State-owned enterprises, such as China National Petroleum Corp, where a number of corrupt officials investigated for involvement in Zhou's case have been dubbed the "oil clique", according to the Xinhua report.
Zhou has been expelled from the Party and transferred to the Supreme People's Procuratorate for further investigation and trial.
Ling, a senior Party official and national political adviser who is the latest state leader to come under investigation, has aroused attention from media at home and abroad.
Ling has established a secretive network known as the "Shanxi clique" with other high-ranking officials and business managers from his home province of Shanxi to expand his influence, Xinhua reported.