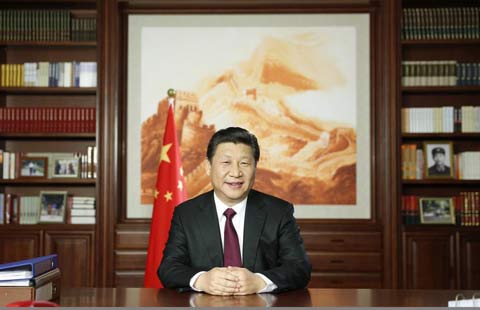 Chinese President Xi Jinping delivers his New Year speech via state broadcasters in Beijing, Dec. 31, 2014.

In his New Year address on Wednesday, President Xi Jinping pledged to further deepen the nation's overall reform and to promote the rule of law, comparing them to "a bird's two wings".
The president said during the television and radio broadcast that the past year was "unforgettable" as the government had made substantial strides in improving people's livelihoodsand cracking down on corruption, as well as strengthening China's ties with other nations.
To accomplish the government's goals, civil servants had been assiduous in their duties over the past year, Xi said.
He also expressed his gratitude to the public for their support, saying that without it, "we could not have achieved anything".
"I must give our great people a thumbs up," he said.
In 2015, China will continue to deepen the overall reform, from which "there is no turning back".
The country will also continue to advance the rule of law to safeguard people's rights and interests, guarantee social justice and promote national development.
"Furthermore, we will persist in the fight against corruption and punish each and every corrupt official, one by one with no exception," he vowed.
At a party to celebrate the coming New Year with China's national political advisers, Xi said challenges are the "voices of the times" and people's concerns must be the Party's top priority.
The central government had fulfilled 80 key tasks of overall reform and 370 measures were taken to push forward reform, he said, adding some long-standing public concerns were solved last year.
Xi also stated that the central government will "unswervingly safeguard Hong Kong and Macao's lasting prosperity and stability and deepen exchanges across the Taiwan Straits".