1. So many people! I think it was the sheer number of people that got me. People crammed into subway cars, cars lined up as far as the eye could see, the sidewalks so filled that you had to walk on the street.
2. Expansion rate. Cities are growing at an alarming pace. The amount of construction going on everywhere is amazing. With a good view of the town, I could see half a dozen cranes. In America, a skyscraper may be built and it would take several years. In China, you literally see half a dozen cranes right next to each other building 10 skyscrapers at the same time to be completed in a few months. Leaving and coming back in a couple of years means entire cities have sprung up that weren't there before.
3. Not that many bicycles anymore.
4. No toilet paper in public bathrooms.
5. Small vehicles with enormous loads
I'm amazed at how much can fit on a tiny vehicle. Bundles of plastic bottles about a yard wide and tall are stuck on the back of a bike. An entire family fit on a moped. A little tractor carried a pile of sticks at least six feet tall, and several people were perched on top.
6. Personal space. They appear not to have any concept of personal space.
7. Different food animals. Fried scorpions? No problem. Silkworms? Make sure the ones your vendor is selling are still wiggling, so you know they're fresh. And of course dog meat is readily available at restaurants.
8. Everyone is generally friendly.
9. How much random exercise equipment and fitness stops are around.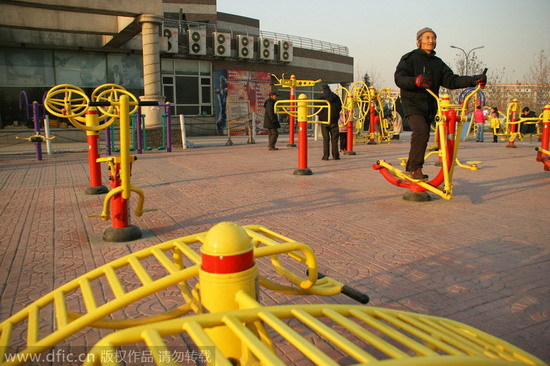 10. How many people take naps during their work day, on anything available.